The following information was provided by Sempai Sheldon Atkinson psasa@nbnet.nb.ca. Shihan Salter also has his own website called the Maritime Karate Kyokushin and can be contacted at karate@new-brunswick.com
---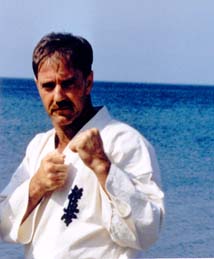 Sensei Guy Salter started his life long journey of the Ultimate Truth in October of 1974 in Campbellton New Brunswick, Canada. He achieved his Shodan in 1980 while living in Montreal Canada and training with Shihan André Gilbert. In July 1980 he opened his first Kyokushin club which he had for 7 years.This club is still going strong under the direction of Sensei Lucien Leblanc (Sandan) While living in Campbellton once again he started in Kickboxing and full contact fighting. He gained the New Brunswick Kickboxing title in 1983 and kept it until he retired 7 years later. During that time he was fortunate to be able to do two different exhibition bouts with the famous World Champion kickboxer Jean Yves Theriualt (The Ice Man)

Also in 1983 he went to further his training at the Hombu in Japan for six weeks. After training in Japan he decided to pass his Nidan which he did in 1984. Then in 1985 he fought again in the Full Contact Canadian Championship in Montreal taking 3rd place. In 1988 he passed his Sandan grading and fought again in the Canadian Knockdown Championship organised by Shihan André Gilbert.

In 1990 that he began to referee in full contact bouts. Still in search of the Ultimate Truth he passed his Yondan grading in 1992. In 1994 he demonstrated the true power of Kyokushinkai and the gedan mawashi geri by breaking 25 baseball bats in one minute and three seconds!

In March 1996 he was awarded his Branch Chief Certificate for the Maritimes in Canada from Shihan Yukio Nishida. He also is the current Vice Chairman of the North American Kyokushinkai Organisation under the direction of the Kyokushinkai-Kan in Japan, and has since also been awarded his 5th dan.

In 1997 he fought for Canada in the First World Cup in Japan.

In the Maritimes he is currently responsible for 5 schools and has many yudansha under his direction, including 1 Sandan, 6 Nidans, and 10 Shodans.